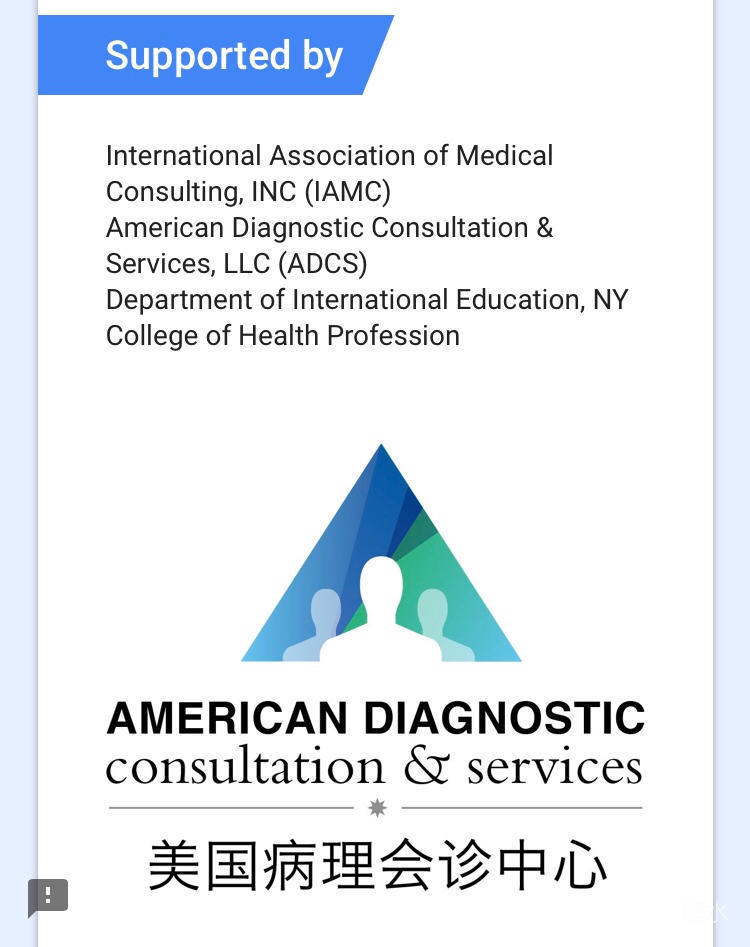 医网情深:纽约病理实习笔记——Case study: Colon cancer by YMF   Biopsy of a colon polyp was shown as below:   This case was diagnosed as Tubular Villous Adenoma.   However, small focal areas of this specimen showed dysplastic cells, and pathologist therefore suspected the existence of potential malignancy which was not revealed by the current biopsy. By consulting GI physician, pathologist learned that the polyp biopsy was taken from the surface of a big colonic mass that nearly obstructs the colonic lumen. Therefore, pathologist recommended the patient to undergo rebiopsy or surgically reset the whole mass, and deeper level of the rebiopsied mass were shown as below: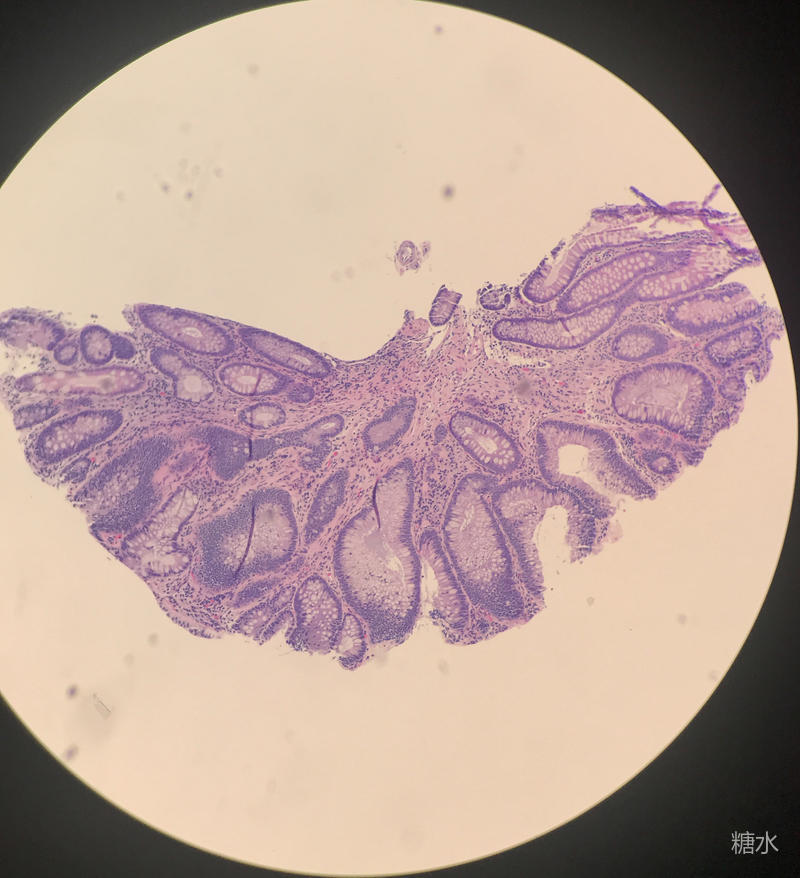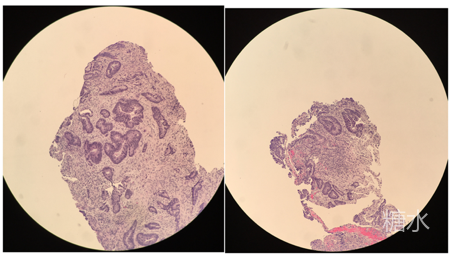 Clusters of malignant cells with glandular morphologies were revealed, indicating Invasive Adenocarcinoma.   Higher magnification and IHC staining:
Study notes: CDX2: a homeobox gene that encodes an intestine-specific transcription factor, expressed in the nuclei of epithelial cells throughout the intestine, from duodenum to rectum. Used as a marker for malignancies originated from gastrointestinal tracts. CK20 and CK7: The expressions of CK7 and CK20 have been studied in various primary and metastatic carcinomas. Their expression patterns may help to distinguish the site of origin of metastatic carcinomas. CK7-/CK20+ pattern is typical of colorectal adenocarcinomas. CK7+/CK20- pattern is typical of lung adenocarcinomas Microsatellite instability (MSI) panel: cancers with MSI account for approximately 15% of all colorectal cancers and 90% of colorectal cancers in patients with Lynch syndrome or hereditary non-polyposis colorectal carcinoma (HNPCC). Colon cancers with MSI-H have distinct clinical and pathological features. Consequently, identification of the MSI phenotype can both be relevant and interesting as a screening tool for hereditary nonpolyposis colorectal cancer, as a prognostic marker, and as a potential predictive factor of chemotherapy response. For this patient, all four MSI-H markers are positive, indicating a wild type genotype. Tumor budding: an important additional prognostic factor for patients with colorectal cancer (CRC). Defined as the presence of single tumor cells or small clusters of up to 5 cells in the tumor stroma, tumor budding has been likened to an epithelial-mesenchymal transition. Based on well-designed retrospective studies, tumor budding is linked to adverse outcome of CRC patients. Identification of tumor Budding can be challenged by multiple tumor features: fragmentation, mucinous, inflammation or stromal cells. Therefore, cytokeratin immunochemistry can be utilized to better characterize tumor budding in such circumstances (illustrated as below).
Desmoplasia: occur around a neoplasm, causing dense fibrosis around the tumor. Also called desmoplastic reaction to emphasize that it is secondary to an insult. Desmoplasia is thought to have a number of underlying causes. In the reactive stroma hypothesis, tumor cells cause the proliferation of fibroblasts and subsequent secretion of collagen. The tumor-induced stromal change hypothesis claims that tumor cells can dedifferentiate into fibroblasts and, themselves, secrete more collagen.       Lesson learned: In this case, the polyp was not sampled adequately, which could result in the initial misdiagnosis. Therefore, pathologist should make diagnosis with close reference to clinical manifestations, and proper and adequate sampling during biopsy is critical to guide the diagnosis and treatment for patients. If endoscopic biopsy is unable to represent the whole lesion, more aggressive method, such as surgery, should be implanted to achieve complete sampling and more accurate diagnosis. Besides, the smooth communication between pathologist and clinical physician is also critical in guiding the clinical diagnosis and treatment.     Reference: 1. Werling, R.W., Yaziji, H., Bacchi, C.E. and Gown, A.M., 2003. CDX2, a highly sensitive and specific marker of adenocarcinomas of intestinal origin: an immunohistochemical survey of 476 primary and metastatic carcinomas. The American journal of surgical pathology, 27(3), pp.303-310. 2. Hernandez, B.Y., Frierson, H.F., Moskaluk, C.A., Li, Y.J., Clegg, L., Cote, T.R., McCusker, M.E., Hankey, B.F., Edwards, B.K. and Goodman, M.T., 2005. CK20 and CK7 protein expression in colorectal cancer: demonstration of the utility of a population-based tissue microarray. Human pathology, 36(3), pp.275-281. 3. Kurzawski, G., Suchy, J., Debniak, T., Kladny, J. and Lubinski, J., 2004. Importance of microsatellite instability (MSI) in colorectal cancer: MSI as a diagnostic tool. Ann Oncol, 15(Suppl IV), pp.283-284. 4. Deschoolmeester, V., Baay, M., Wuyts, W., Van Marck, E., Van Damme, N., Vermeulen, P., Lukaszuk, K., Lardon, F. and Vermorken, J.B., 2008. Detection of microsatellite instability in colorectal cancer using an alternative multiplex assay of quasi-monomorphic mononucleotide markers. The Journal of Molecular Diagnostics, 10(2), pp.154-159. 5. Koelzer, V.H., Zlobec, I. and Lugli, A., 2016. Tumor budding in colorectal cancer—ready for diagnostic practice?. Human pathology, 47(1), pp.4-19. 6. Crispino, P., De Toma, G., Ciardi, A., Bella, A., Rivera, M., Cavallaro, G., Polistena, A., Fornari, F., Unim, H., Pica, R. and Cassieri, C., 2008. Role of desmoplasia in recurrence of stage II colorectal cancer within five years after surgery and therapeutic implication. Cancer investigation, 26(4), pp.419-425.